Welcome to the home page of:
K3DSM.COM
Amateur Radio Station K3DSM
Gene Mitchell Chester County, PA USA
Licensed continuously since April 1958
From Merion to Devon to Kimberton to Malvern, and now:
700 feet Elevation in Honey Brook
K3DSM operated one of the first repeaters and autopatches in the East - read the story
President: Philadelphia Area Repeater Association (a 501 C (3) non profit)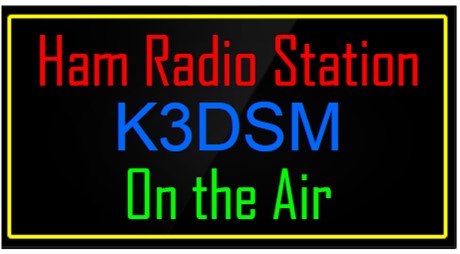 ---
---
Ham Radio (Amateur Radio)
Ham Radio Operators Talk to the World on Short Wave Radio and around town on UHF & VHF frequencies
Improving World Relations, developing technologies, and Providing Emergency Communications in times of disasters
Ham Radio is a hobby for communications and experimenters. Talk to the world by radio from your car, home, office, or handheld walkie talkie. Use voice, data, or television. Hams are licensed by the Federal Communications Commission. Ham radio has been allowed to exist because of its value for developements of the communications spectrum and other technologies as well as its capabilities in providing emergency communications in times of NATIONAL and Natural Disasters such as Earthquakes, Floods, Forest Fires, and even the 9-11 disaster and Shuttle disaster parts recovery. There is no age limit. Only a simple test of the FCC rules, basic communications skills, and some simple technical knowledge is required to obtain a license. No Morse Code is required. It's Fun! It's Exciting! It's Valuable! It's Educational!